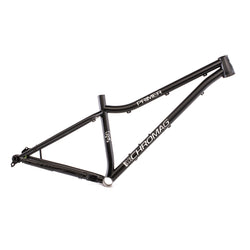 Hub Spacing // Boost 148mm (Axle and Hanger Included)
Headset // 44-56 Semi Integrated
Seat Clamp Size // 35mm
Seat post Size // 31.6mm
BB // 92mm Press Fit (PF92)*
Wheel Size // 29" or 27+
Recommended Fork Travel // 160mm (±10mm)
Builder // Chris Dekerf and Mike Truelove
Click here to view the frame user guide.
* We hand ream PF92 BB shells carefully to a high tolerance and BB cup dimensions from different manufacturers vary. We follow SRAM-Dub specifications and SRAM BB cups are our first recommendation for the most accurate fit. If there is a specific BB/Crank combo you wish to fit to your frame, we can assist in evaluating the fit and even potentially ream and fit the BB for your new frame.
Head Tube Badge
Your bike is special. The head tube badge is the finishing touch so we've always made a point of taking the time to do something interesting with it. Our head tube badges have changed over the years and are an indication of the time each bike was made. Whether it's a cast bronze, or polished stainless steel, water cut aluminum or a 3D CNC carving, each one represents our commitment to detail.
Dropouts
As 12mm through axles have proven to be solid, reliable and convenient, we have committed most of our models to utilize this format.   Our 12mm dropouts are accurate and tough and feature a removable derailleur hanger with a sturdy interface for strength and reliability.  All 2017 models (excluding Monk and Nice Dreams) will follow the 148mm boost spacing.
Yokel
Our 'Yokel' design is a small machined junction on the chainstay that helps accommodate both tire clearance and chainring clearance. Our first versions were huge CNC yokes that bridged the entire front end of the chainstays. Over time we refined this to minimize weight by arranging our chainstay layout asymmetrically and reducing the yoke to a minimal size. It's one of our most unique frame features and has been copied by other frame makers.
Chain Stay Protector
All Chromags now ship with our injection moulded chain stay protector to help keep the paint fresh and the noise low. These have an adhesive applied, but also slot for zip ties if they come unstuck years down the line, or if you want to apply it to another frame.